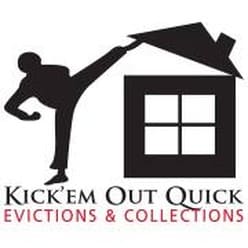 Las Vegas Eviction Attorney
The Dean Legal Group is honored to be the  Las Vegas Eviction Attorney & Landlord Tenant Lawyer for Kick'em Out Quick®.
Kick'em Out Quick® saves landlords time, effort and money by offering a collectin and eviction service all in one.
We will attempt to evict your non-paying tenant as quickly as our law allows.  After the eviction process is completed, we offer collection services to aggressively pursue the money that is owed to you in unpaid rent.
We can help you with collections, evictions, advice, eviction forms and more.  Contact The Dean Legal Group today to discuss your eviction and tenant collection issues.